For about the last 2 weeks I have been carefully following and tweaking my phone for max battery life.
There should be no reason this phone will not make it to consistant 35-40 hours between changes with light to moderate use
Average battery life with current settings:
Light
: 1.25-2.5% battery/hour.
Mod
: 2-4% battery/hour
Heavy
: 3-6% battery/hour
Battery Killer
: 15-20% battery/hour
Definitions
Light usage
: Occasional phone calls, checking time, reading news
Mod usage
: Greater than 2 hours of any of the following Phone calls, listening to streaming radio > 2 hours OR screen on > 1 hour noncontinous
Heavy Usage
: > 4 hours Phone calls, listening to streaming radio OR > 2 hrs screen on noncontinous
Battery Killer
: screen on all the time AKA gaming
Disclosure
ROM
: AOKP milestone 3
Kernal
: Leankernal started with 1.7.1 230expimental. Then changes to 1.8.0 230experimental5. With moderately agreessive UV (see pictures below of settings)
Radios
: 4.0.3 initially. Changes to 4.0.4 day after release
Tweaks
:
UV
--> #1 battery saver saves 2-3% hour all settings. You should be able to set your phone below 800 mHz at rest without any loss of stabilty. My phone does not like anything < 750 (Each phone will vary). I hightly recommend Leankernal or Pete's because they include these slots. You do NOT been to agressivly undervolt your 1200, 950, and 700 as your phone spends minimal tine in those states. I have found that 700 slot causes the most problems.
Google+
--> disabling chat/notifcations (keeping upload on wifi) saves 0.5% hour on light
Changing all widgets/weather/news
to update once every 6 hrs --> 1-2% battery/hr save
Autobrightness
--> depends on conditions (and if it even works on your ROM) saves only on heavy/battery killer use. Can be 1-5% an hour
NFC
: Turned off, use is too infrequent to justify leaving on, minimal power save
4G
: I use 4G, but 3G is definitly a powers saver ~0.5 (good reception)-4%(poor reception) an hour depending on quality of 4G signal
4.0.4
- Has drastimally improved 3G signal in my area. Areas with no reception on 4.0.1 and 4.0.3 now get good reception. Has improved battery life as a result
Locale
- automatically turn off wifi/GPS/bluetooth/4G when no need. Considerable power savings
Sync
- I always leave my data on push. Can consider an interval, it will likely bring power consuption < 1% hour. Will be HUGE power saver if you have poor reception.
Likely others,...
Pictures
: You can see about 2 weeks of daily battery life. Based on my definitions most mod use. Only 2-3 days of heavy and 1 1/2 of battery killer. If there is confusion I will label each
[sharedmedia=core:attachments:16061] [sharedmedia=core:attachments:16063]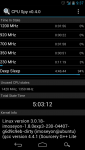 [sharedmedia=core:attachments:16801] [sharedmedia=core:attachments:16800]
[sharedmedia=core:attachments:17205]
[sharedmedia=core:attachments:17206] [sharedmedia=core:attachments:17207]
[sharedmedia=core:attachments:17213] [sharedmedia=core:attachments:17214]
[sharedmedia=core:attachments:17211] [sharedmedia=core:attachments:17212]
[sharedmedia=core:attachments:17209] [sharedmedia=core:attachments:17210]
[sharedmedia=core:attachments:17208]
[sharedmedia=core:attachments:16060]
[sharedmedia=core:attachments:16799]
Note
: It will take me several posts to upload all the photos since there is a 300kb limit, then I will edit them all into this first one
Discuss