Disclaimer:
** This application will NOT provide root access **
** FREE - Want to help the rooting community! **
Brief Description:
This application will allow the user to confirm they have proper root (super user) access and proper busybox install.
Advanced Root Check mode will show, Superuser.apk installation and version, adb shell default user mode, standard su binary locations and permissions, along with root uid/gid. Advanced Busybox Check will show all applets the installed Busybox binary supports. Advanced Root Check and Busybox Check have an email feature allowing results to be easily shared/exported. Over 20+ different devices have links to their device specific rooting guides.
Description:
The goal of this application is to provide even the newest Android user with a simple method to check for root access on their phone. This is a very simple application to notify the user whether or not they have properly setup root access and whether or not they have properly installed busybox. For advanced users, this application will provide many more details giving the user greater control and knowledge of their root and busybox installation.
Gaining root access varies based on manufacturer, model, and carrier. If the device doesn't have a root guide link provided in the application, please refer to
http://www.google.com
to find the appropriate support areas for your specific rooting needs. Feel free to email me with root guides which have worked!
Download:
From the Android Market:
Root Check Basic
&
Root Check Pro
From my personal host:
Root Check Pro
For those in China or other countries which block the Android Market use my personal hosting link above.
Feedback:
Please PM me with feedback, suggestions and comments. Thank you!
Feedback:
Root Checker Pro Root Results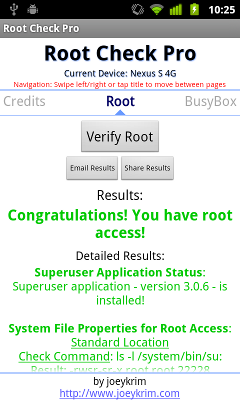 Root Checker Pro Busybox Results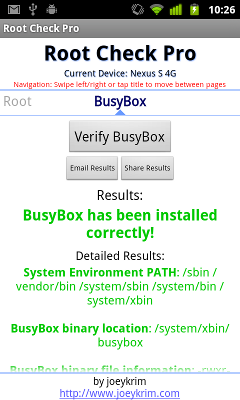 Root Checker Pro Widget