First things first. This is a animation created by TeaAndBiscuits on Youtube found here,
I just converted it into a boot animation.
Please read. I am not responsible for you not reading instructions that may result in a dead phone. Unlikely, but people do amazing things.
This is built for screen 480x800. If your is different you can edit the desc.txt to your screen size. There are 2 versions, portrait and landscape. Each of those versions have a non flashable and a flashable to system/media or data/local depending on your device. I have also included a android_audio.mp3 if your rom supports sound during the boot animation. I did not put it in any of the flashables, you will have to move it to your system/media of data/local folders respectively.
Preview with sound
Preview:
Portrait
Landscape
Set permissions like this using Root Explorer or something similar ie. File Expert, Total Commander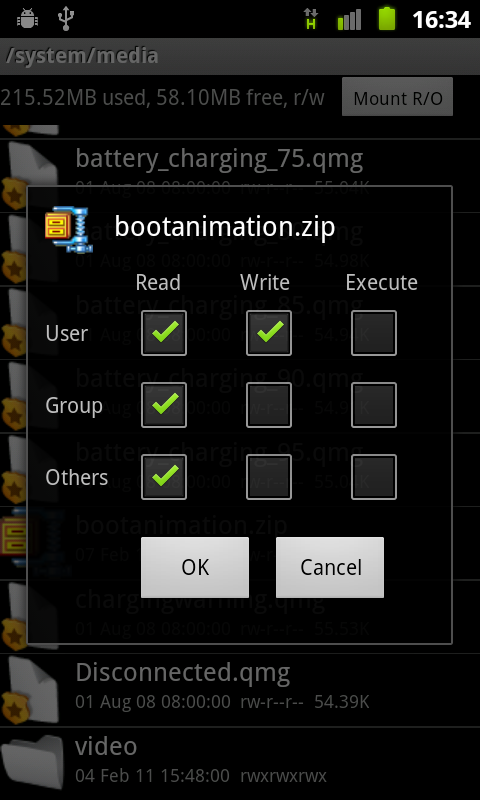 How to get audio to work
Download
this file (bootsnd.sh)
and put it on the root of your sd card. Open Terminal and type this:
SU [hit enter]
cd /sdcard [hit enter]
sh bootsnd.sh [hit enter]
You will just get the # when its done. Flash the boot animation or move the bootanimation.zip and android_audio.zip to the system/media folder and next time you reboot you will have sound.
Downloads
Portrait
Non Flashable bootanimation.zip
Flashable to data/local
Flashable to system/media
**
Flashable to system/media WITH SOUND (android_audio.mp3)
**
Landscape
Non Flashable bootanimation.zip
Flashable to data/local
Flashable to system/media
**
Flashable to system/media WITH SOUND (android_audio.mp3)
**
Audio for the non flashable bootanimation.zip if your rom supports it
Droidnom boot animation audio