READ Before You Continue​
Ladies and Gentleman, welcome to the master thread for themes/mods related to Codename Android
​
This thread is meant to compile all the themes/mods/goodies that have been worked on so diligently by the CND supporters into one easy to read place.
​
I encourage everyone to give these themes and mods a chance and to support the developer in whatever way you seem fit. (Let's not make it creepy though) Whether it's a simple thanks or a monetary shoutout on paypal, theses guys, like all devs, work hard to bring you the things you want and deserve the know they're appreciated.
​
That being said, I take NO CREDIT FOR MYSELF FOR THE CONTENTS OF THIS THREAD. Read that loud and clear, I did not make these mods/themes. You will find the creator of these customizations next to their links and in their OP if they should happen to have a thread themselves. I WILL NOT link directly to files unless the dev has no thread or asks me to do so because their thread is not to be superseded by this one. This thread is only to compile.
​
Because these themes/modifications are made by members of the community, CodenameAndroid and I take absolutely no responsibility for the contents or consequences of using said themes/modifications. Additionally, all troubleshooting related to a theme/mod should be left in their thread as that is where the developer is most likely to see it. Please do not report it on the CND bug tracker until you're absolutely certain it is the rom and not the theme/modification.
​
PLEASE READ THE THREAD AND OP BEFORE FLASHING ANYTHING! IF YOU FLASH SOMETHING THAT DOES NOT EXPRESSLY STATE IT'S FOR YOUR VERSION OF CND AND YOU ASK MY WHY IT BROKE YOUR PHONE, I WILL SIMPLY REPLY "
"
​
If you have created a theme/mod for CND and would like to share it with the community, send me a PM and I will include it after review. If you do not have your own thread, you must upload the file to an accessible site (such as dropbox, multiupload, etc.) as I will not do this for you.
​
Now with all the formalities out of the way
​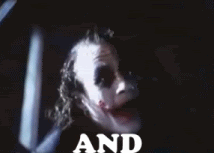 ​
Themes​
Modifications