·
THEMER/JEDI COUNSEL/GODFATHER of Inversions
Discussion Starter
·
#1
·
I have it inverted also in another thread in the Fascinate section but it's more of a Holo theme than Blacked Out...
This thread is for the Transparent Version tho. This is a huge accomplishment since I'm pretty sure this has never been done. There have been transparent Talks but none of them had the chat screen done also.. so this is really cool!..
I TAKE NO RESPONSIBILITY FOR YOU OR YOUR PHONE
Installation Guide:
FOLLOW PRECISELY
1.
http://bit.ly/403TalkNOmanifestEdit
Download this zip file and flash it in recovery or rom manager... once the device reboots, check your talk.apk and make sure it's working.. it'll be partially themed. If so,
reboot your phone again.
2. Once the phone reboots, download this
http://bit.ly/403TalkTransparent
and flash it in recovery or rom manager.. Once it reboots you should have a fully transparent GTalk.apk
3. If you lose Talk at any point or just wanna go back to stock, download this
http://bit.ly/stock403Talk
.. it's the stock Talk.apk and flash it
This install method is the only way I got it to work and credits to TravP for collaborating with me on getting this to install due to the weird GApps issues when we touch the manifest.
*known issues*
Only thing I can find is the notification pop up menu.. it's white with black text. We're still looking into this one...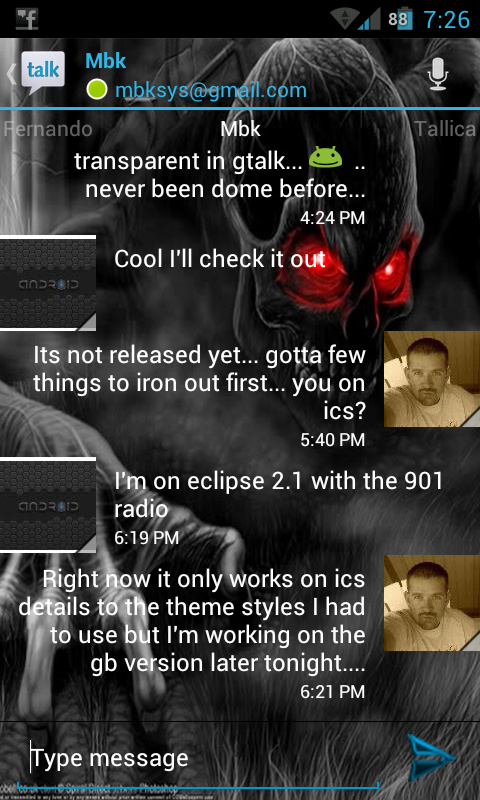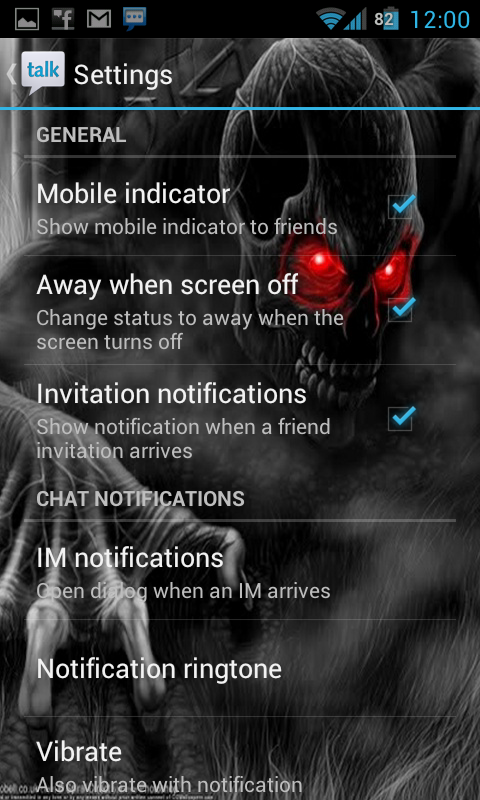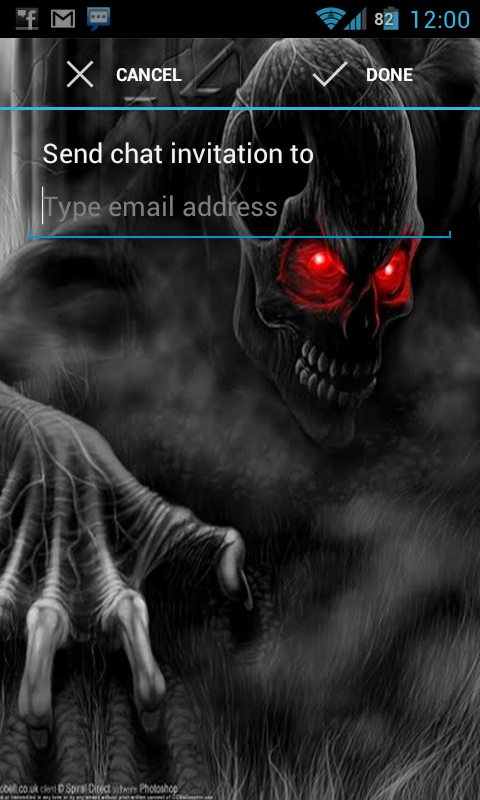 I have a Fascinate, not a Gnex.. So I don't know if this will work on other ICS Roms. Feel free to try it and feel free to add them to a zip file that will support your device.. The zip file I used is from the GApps I installed with the rom just to ensure it installs.. I'll add a "how to" guide later for anyone that want's to know...