Heres it is what u've all been waiting for, pure sense 3.0(not mysense 3.0 like doubleshot port) resized to WVGA, first and for most you need thank rmk/flemmard/campychamp/diamondblack for the outstanding work resizing it, i only fixed to work on the mt4g.
Wanna chat about the rom or to me directly? Please join me on irc.freenode #Android-Maister

s
Features:

1.Menu/Back buttons can wakeup the device =D
2.Full rom on system partition, so u have ur full data partition free! for all ur apps and games!
2.Deleted useless widgets/apps so it could fit confortble in system partition.
ScreenShots: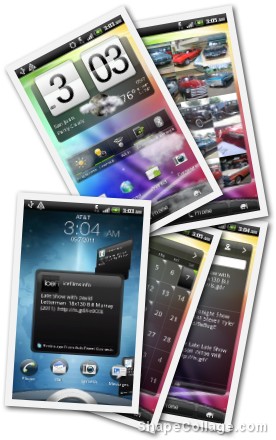 V1.3:
No need to wipe if you come from v1.2(if u get strange issues then wipe)
Change log:
Faux OC kernel v4
HTC Mail updated from JoelZ9614's
Added Rosie from Krzysiec
Calendar 7 day from Rsotbiemrptson
HTC Mail widget working from JoelZ9614's
Weather with 3 day view from Rsotbiemrptson
Added skins from htc hub and eyespunker
USB Menu from Jack_R1
Added all the weather videos made smaller by Seo!
Added CRT on/off animation from campychamp
Re-added Weather LiveWallpaper
Download Link:
http://goo.gl/yQQKO
Addons:
battery %,Overscroll Glow, Flying animation
http://goo.gl/tgCpl
MMS FIX:
http://goo.gl/Wwob5
Code:
[color=orange]V1.2:[/color] [color=red]No need to wipe if you come from v1.0(if u get strange issues then wipe)[/color]<br />
[color=orange]Change log:[/color]<br />
All the previous bugs are fixed now, youtube app still doesn't play on data connection need to further look into it.<br />
Added swype<br />
Added Wifi calling(let me know if it works i cannot test this)<br />
New glacier sense 2.1 KERNEL!! included!<br />
<br />
[color=orange]Addons:[/color] battery %,Overscroll Glow, Flying animation [URL=http://goo]http://goo[/URL].gl/tgCpl<br />
<br />
[color=orange]Addons:[/color] Weather Live wallpaper [URL=http://goo]http://goo[/URL].gl/jvNlX<br />
<br />
[color=orange]Addons:[/color] CRT Screen off animation [URL=http://goo]http://goo[/URL].gl/qJqDZ<br />
<br />
[color=orange]Download Link:[/color] [URL=http://goo]http://goo[/URL].gl/YQNL8<br />
<br />
[color=orange]V1.0:[/color] [color=red]DATA WIPE REQUIRED[/color]<br />
<br />
[color=green]I made another one, using fly in animation instead of rudolf =][/color]<br />
[URL=http://goo]http://goo[/URL].gl/rPe0N<br />
<br />
[color=green]Battery %/rudolf window transition,Over scroll glow mod:[/color] [URL=http://goo]http://goo[/URL].gl/uo5Z6<br />
<br />
[color=green]Swype Patch:[/color]http://goo.gl/ZwTzF<br />
<br />
[color=red]MMS FIX:[/color] [URL=http://goo]http://goo[/URL].gl/Wwob5<br />
<br />
[color=orange]Download Link:[/color] [URL=http://goo]http://goo[/URL].gl/ND0xE<br />
<br />
[color=green]Mirrors:[/color] (thank tabasco XT)<br />
[URL=http://goo.gl/mJkiL]http://goo.gl/mJkiL[/URL] (megaupload)<br />
[URL=http://goo.gl/hkZBw]http://goo.gl/hkZBw[/URL] (4shared)<br />
<br />
[color=orange]Change log:[/color]<br />
Gallery FC fixed<br />
Adobe flash fixed<br />
Youtube app issue fixed<br />
WIFI FIXED!!!!<br />
ReAdded Streak live wallpaper<br />
SU issues fixed, no need to fix permissions truh recovery anymore.<br />
<br />
Not working:<br />
Voice Recording isnt picking up sound, willl fix it as an update.zip<br />
<br />
[color=orange]V0.1[/color]<br />
<br />
<br />
[URL=http://goo]http://goo[/URL].gl/BxcY3[color=red](PLEASE MAKE MIRRORS!!!!)[/color]<br />
[URL=http://goo.gl/tqotr]http://goo.gl/tqotr[/URL] Megaupload Mirror(make other mirrors thanks!)<br />
<br />
[size=18][color=red]FIX PERMISSIONS AFTER FLASHING THE ROM VIA RECOVERY![/color][/size]<br />
<br />
[color=red]Adobe Flash FIX:[/color]http://goo.gl/ZTtON<br />
<br />
[color=red]ALBUM FC FIX:[/color]http://goo.gl/6yrPC<br />
<br />
[color=red]MMS FIX:[/color] [URL=http://goo]http://goo[/URL].gl/Wwob5<br />
<br />
<br />
[URL=MIRRORS:(THANKS*]MIRRORS:(THANKS*[/URL] TabascoXt!!)<br />
[URL=http://goo.gl/qle8i]http://goo.gl/qle8i[/URL] (megaupload)<br />
[URL=http://goo.gl/Vn1kZ]http://goo.gl/Vn1kZ[/URL] (4shared)<br />
<br />
[color=orange]Working:[/color]<br />
Everything minus wifi<br />
Including camera/camcorder 720p/video playback perfectly!!<br />
<br />
[color=orange]Whats not working:[/color]<br />
wifi(wifi calling)<br />
<br />
<br />
<br />
<br />
*:king: