Alright, well I got tired of running GB since I need my GPS. So I decided to port one of my favorite JVP themes, Legend-X.
This is my first time porting or themeing anything Android related so there is a few rough spots I will fix later. If you find any just let me know, I will try my best to fix them.
As always your warranty is already void and I am in no way responsible if your phone decides to eat your face on reboot, or cut your throat while you sleep.
Flash at your own risk, I have only tested with project-v.
This is based off the Legend-X theme for JVP by S39
Original Thread/Theme
There is a couple icons from trigger mixed in(re-colored).
I added my own themed crysis battery icon, themed the unlocks(still working on them). And there is a few of my own icons/buttons you can see on the unlocks, popups, pull downs etc. I did this mainly because the theme didn't format over exactly and some things where missing, that and I just used what I liked better.
This is only the frameworks that are themed for now. I plan on working more on this and trying to port over all the other extras that come with the original theme. I am also working on my own personal theme.
Thanks:
S39 for creating and letting me use his great theme.
Roman for answering my noob questions on twitter and the awesome ROM.
Annex for inspiring me to give themeing a chance.
EDT for bettering our devices with great ROMs.
Crysis for the original battery icons.
Screen Shots: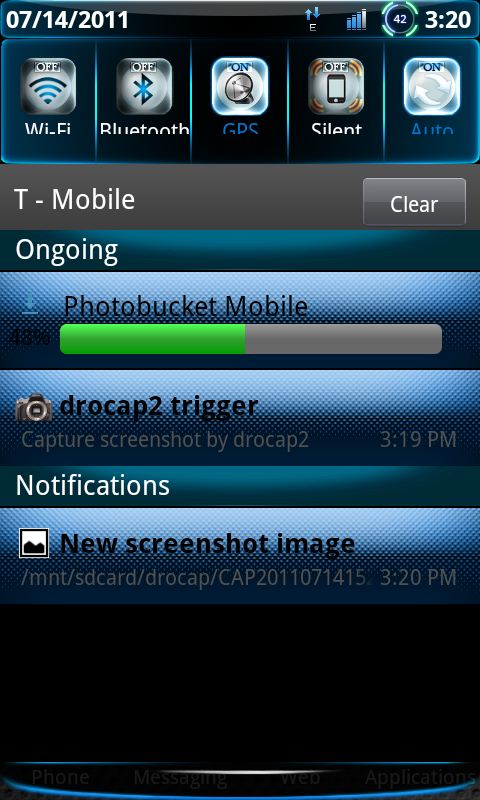 Instructions:
1. Download to your SD card
2. Reboot into CWM Recovery
3. Wipe Dalvik Cache and Cache Partition
4. Flash the zip through CWM recovery
5. Reboot
2 times
6. Rejoice
Downloads:
http://db.tt/NEEZyi6
Changelog:
v1.0 (7/16/11)
-Fixed numerous issues including pulldown.
-Added Themed:
--Dialer
--Market
--Settings
--TouchWiz 3.0 might do 4.0 with enough requests.
If you got any questions or anything feel free to ask here or you can find me on twitter @kwes1020
Please do not re-post to any other forums. Thank you. Hopefully more themes to come if time will allow.