Mod
Type:
: Theme
Difficulty:
: Very Easy
Mod
Base:
: AOSP
Mod
Status:
: Stable
Apply
In:
: Theme Manager
Carrier:
: Unlocked GSM
Optional:
: Themed
Requires
Root:
: Yes
Optional:
: Themed
Android
Version:
: 4.2.1 (JB)
Source:
:
Linear now available for Jelly Bean!!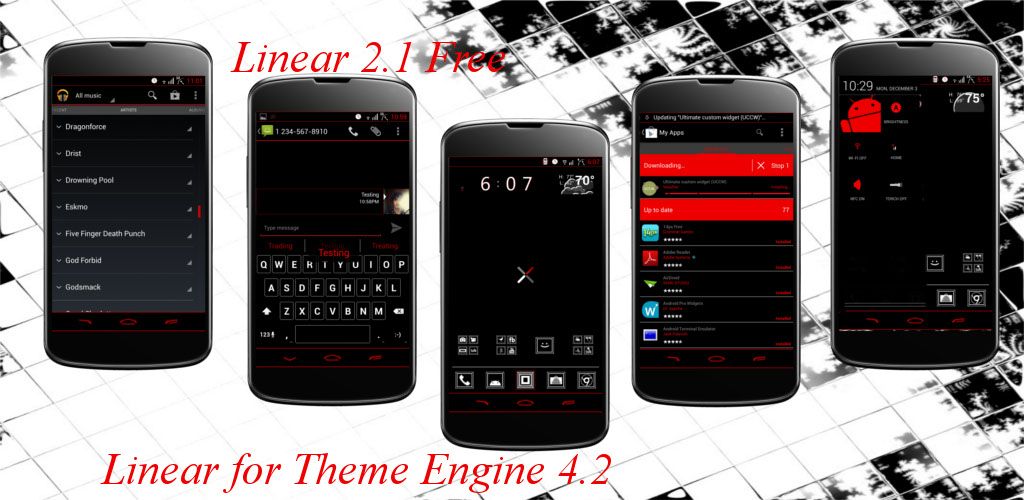 *For more pics hit up Play links.
https://play.google....mVhcmZyZWUiXQ..
-->
Free Version
https://play.google....WUubGluZWFyIl0.
-->Donate Version
A little background info:
Back on the Droid from Motorola when Android was young, I got into modding and really loved what I found, this community had so many great people, it was the first time I had ever seen so many people from different backgrounds and places come together to make something great. Ever since then I knew Android was for me. I soon discovered the themes by bgill55 (Or team incognito as they were called back then), his visions were exactly like what I would make and a few months later when Linear came out, I knew it was what I had been waiting for. I ran Linear until my Droid quit due to a processor issue and I was sent a Droid 2, It was locked and pickings were slim but luckily Bsthemes (As they were now known) had picked up a Droidx so I was able to run Linear again on my D2 for a time. When Cm7 Finally came along Linear was updated yet again to even more awe-aspiring heights... Alas, I would never experience it with my locked device, so I upgraded to the Galaxy Nexus (And a year later the Nexus 4), I knew I had to revive my favorite theme so I could stop changing my phone everyday and be happy with how it looked. I consider myself the biggest fan of Linear and if you're like me and want to see Linear in all it's glory on ICS/JB I won't let you down! Now, on to the really interesting stuff.
The greatest theme ever made, Linear from Cm7 has been reborn in all its Jelly Bean glory! 99% of the original theme has been preserved and the original images have been resized and reused where possible. Others have been redrawn with Linear style. I've worked closely with the original Author to get it as close as possible.
Whats themed:
Systemui
Framework
Phone
Contacts
MMS
Swype
Browser
Stock Keyboard
Play Store
4.2 Toggles
Plume
Animated Notifications for:
SMS (MMS coming soon)
Gmail
Corporate Email
Talk Notification-Themed but not animated at this time.
Also, the old Linear addons from gb will work, they include, but are not limited to:
Android Pro Widgets Skin
Audio Manager Skin
Beautiful Widgets Skin
Adw Icon Pack (Works with Apex/Nova)
To Find them, search BSThemes on Play store
As of December 7, All theming issues with Aokp should be fixed, you no longer need a different mms or keyboard.
The free and donate versions are the same, only the Donate will be updated a bit more often.
If you have things that don't look right please hit me up on Twitter (@phaze08) or gmail. Screenshots included helps.
I plan to theme all apps I use on a daily basis, then will add others on popular request.
I'd like to thank the following people:
Bgill55 for letting me take over Linear
Nmiltner for helping me get started and giving me his theme source
Djdarkknight96 and B_boy for dealing with my 1000 questions all hours of the day/night
If I didn't list you, I didn't forget you, theres just alot of people!
I will not be posting this link on any other site. If you see it on another site, please tell me so I can get it taken down. I do this in order to keep all comments, questions, etc in one central place. I'll check pretty often but if you're in a hurry hit me up on Twitter.
You may post on other sites if you re-link back here.
I'll post here when the Play version is updated.
Linear is going through a transformation....I strayed far from the original concept and am taking it back in the right direction. Here's an idea of whats to come.
http://www.droidforu...ots-linear.html