Mod
Type:
: ROM
Difficulty:
: Easy
Mod
Base:
: AOSP
Mod
Status:
: Stable
Apply
In:
: Other (See Description)
Requires
Root:
: No
Source:
:
GPL Kernel source: This ROM uses the Asus stock V9.4.2.28 kernel (unmodified) and the sources may be downloaded from here: http://support.asus....TF201&p=20&s=16
Please don't mirror this rom without my permission.
Please don't post links directly to the downloads; If you want to share, share the link to this thread.
Thank You!
Thanks to Romanbb and TeamKang for putting together this awesome rom.
Thanks to the CyanogenMod team for all they do.
Thanks to BuzzBumbleBee for the initial device tree for the Prime (I made a lot of changes to this)
Thanks to konrad1337 and sportsstar89 for sharing all of their work on the TF101. Without their fixes, I couldn't have done this.
Thanks to _motley for his awesome kernel and for just being a good guy!
Thanks to youngnex for giving me a better solution to the CRT animation issue.

I hope I didn't forget anyone but if I did, PM me and I'll add you.

I have added in a few of the Asus widgets and applications like:
Weather Widget
Battery Widget
Email Widget and Email client
MyWater Live Wallpaper
SuperNote
Maybe more that I forgot...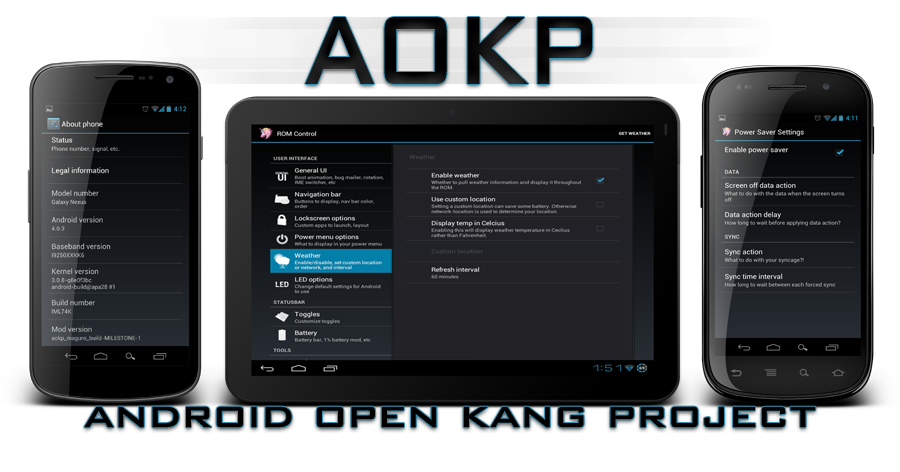 You can usually catch me and other thread members in the #TF201-AOKP IRC channel on irc.freenode.net​
Here's a link to the web client: http://webchat.freen...nels=TF201-AOKP - Big Thanks to RubenRybnik for setting this up!!
What doesn't work on Prime:
​
GPS dongle support is not enabled yet
2 IME icons in tray. Settings-->Rom Control-->General-->Uncheck Show IME and reboot.
No Super IPS+ button (The screen is plenty bright)
User Requests / To do list:
Keyboard key to wake tablet
Fix the 1/2 second black screen that happens on rotate.

MAKE SURE YOU'RE ON THE LATEST TWRP OR CWM RECOVERY (IF YOU DON'T PLEASE DON'T POST ABOUT NOT BEING ABLE TO BOOT BECAUSE YOU'VE BEEN WARNED)!!!!
IF YOU USE TWRP READ THIS POST BEFORE CONTINUING TO AVOID A SOFT BRICK!!!
MAKE A NANDROID
Wipe data/factory reset in recovery
Flash ROM
Flash Gapps
Reboot
If you're installing a new build without wiping, you STILL need to reflash gapps right after flashing the build!!!
Download Milestone 6.1
(Full Wipe Recommended!!)
Download Gapps 4/29/2012
(Restore apps option fixed. GMail is not installed by default)
Download CFQ, Deadline and other Kernel Modules
(CFQ I/O scheduler set by default) (Thanks to saturn_de for compiling the modules)
To change to Deadline (or load other modules):​
Edit /system/etc/init.d/97modules​
For deadline change:​
Code:
echo "cfq" > /sys/block/mmcblk0/queue/scheduler
To:​
Code:
echo "deadline" > /sys/block/mmcblk0/queue/scheduler
To load other modules on startup:​
Edit /system/etc/init.d/97modules​
Add:​
Code:
insmod /system/lib/modules/module_name.ko
Look in /system/lib/modules to see the available modules and Google them for info on them​
(
texfat.ko and tntfs.ko are already loaded by the default rom)
.
​
[hide='Show Older Downloads']
Download AOKP Milestone 5
(Goo.im mirror)
Download AOKP Milestone 5
(Synibox.info mirror)
Download Patch for v1.4.1
(Fixes tablet not going to sleep when lid is closed)
Download AOKP v1.4.1
(Goo.im mirror)
Download AOKP v1.4.1
(Synibox.info mirror)
[/hide]
Milestone 6.1 Changelog:
Dock battery icon should disappear/come back instantly
Dock keyboard shortcuts should all work
No black screen on rotation
Changed the CPU modes so that Performance = 1.6GHz and Balanced = 1.4GHz (Reverts to balanced on reboot)
Added reboot to recovery (

YOU MUST HAVE TWRP OR A MODIFIED CWM TO USE THIS!!!!! IF YOU DON'T, DO NOT TRY TO REBOOT TO RECOVERY!!!!

)
Added the TFP version of Polaris Office with no watermark.
YouTube, Hulu+, etc. will now show up in the market.
Updated to the Asus 9.4.2.28 kernel.
Plus all of the AOKP base fixes and additions that will be listed later.
[hide='Show Older Changelogs']
Build 40 Changelog:
added hardware info in Settings > About
fixed DRM issues (including Hulu)
made lockscreen weather much prettier
fixed tablets
added NFC polling mode Settings > More > NFC polling mode
added NFC toggle
added Achromatic theme
updated Nova
fixed added custom WiFi SSID FC
always moar things!
Build 38 Changelog:
reverted tablet nav bar button padding change (back to stock ics padding now)
fix SMS/BT crash bug when no msgs exist
reworked lockscreen music layout to be cleaner
fix ugly gradient on dark holo background
added AOKP Tips widget
added statusbar autohide for tablets (for apps that need full screen)
added support for more lockscreen targets (2-8 options, your choice)
cleaned up octo lockscreen layout
fixed certain FCs with RC related to weather
Mms: fixed stripping certain Polish characters
decreased size of custom lockscreen apps to match other icons
statusbar brightness enabled by default after you wipe (sliding thumb across statusbar to change brightness)
added statusbar notification counter (RC > Statusbar General > Notification Counter)
new AOKP boot animation from @rascarlo
Out of range Bluetooth devices won't show up anymore in Settings
Browser: added option to close all other tabs (besides current)
Fixed data toggle
Removed requirement to reboot when toggling keyboard switcher (IME switcher) in statusbar
added nav bar widgets (to enable, go to nav bar settings > add toggle widgets as one of your nav bar actions/ long press actions, then add widgets -- be sure to add at least 2 for best experience)
as always, tons of fixes for devices and other backend fixes!
Build 37 Changelog:
fixed navbar glow resetting on reboot
fixed hide navbar for tablets
fixed back button disappearing on tablets
auto-brightness fixes
added more SwagPapers
added volume adjust sound preference (Settings > Sound > Volume adjust sound)
fixed memory leak with lockscreen code
fixed auto-rotate toggle
systemui will now restart on changing themes to avoid any potential errors
navbar background is now set through XML to allow theming
added aokp clock widgets
reverted sd/emmc switch for Galaxy S devices
fixed otter build
navigation bar app icons now scale better
fixed bug in native Email app that would cause wakelocks
Support GSM AT commands for SMS over bluetooth
raised volume level on maguro/tuna
updated nova to 1.1.4
as always, tons of framework/device fixes, you can view all of them here
Build 36 Changelog:
fixed MTP not being enabled by default (yet once more)
added Galaxy Tab 2 7" (espressowifi)
moved tablet clock to the far right of the statusbar
updated tuna kernel to faux 17m
added Transformer Prime (tf201)
updated Nova Launcher to 1.1.2
fixed potential weather service FC
updated p4 devices
added more padding to statusbar buttons
updated Mms emoji code from CM
added delayed ring feature to Phone
fixed a bug when hiding sender information, photo would still show
default ICS wallpapers have returned
added SwagPapers (AOKP Wallpapers)
updated theme engine from CM
wifi icon cut off has been fixed on tablets
fixed volume slider showing incorrect volume in a voice call (making it look like it wasn't full)
added USB Tether toggle to devices that support it
Build 35 Changelog:
Fixed low capture audio volume
Sync'd to build 35 of AOKP

removed Facebook sync (this had to happen. it was a hack and breaking Picasa sync. FB needs to fix this, not ROMs)
Added ability to hide sender and/or message body in notification'
Added dock battery display for tablets
Added Browser tab settings (max tab limit/whether to restore tabs on browser restart)
Added CM9 T-Mobile theme manager
Added Sense 4 style Task switcher (you have the option of choosing from stock/web os/sense 4 now)
Added ability to play boot sound (disabled by default)
increased default nav bar glow speeds for better user experience out of the box
tons of device specific updates and fixes. check here to see all of the latest code we've merged
updated p5/p5wifi device trees from GalaxianSoup.
added toroplus (data will not work after flashing, just flash ANY other kernel after flashing b35. we're working on it
Goo Manager won't be able to detect an upgrade this build
Milestone 5 Changelog:
Added fully working Bluetooth Tether (a.k.a The Ryan! LOL Inside joke)
Dock Battery Icon will change to whatever you set your Rom Control battery icon to.
Fixed an upstream wifi icon spacing issue.
Sync'd to AOKP Milestone 5 (Thanks TeamKang!!)

fixed long press home on navbar being on by default
fixed volume zoom playing sounds with video camera
made flash-off indicator visible in camera
AVRCP: fixed soft reboots with certain players
fixed brightness slider jumping when toggling auto-brightness
sped up opening of init.d tweaks in RC
added description to LED setting on RC to be clearer on what it does

it only changes the DEFAULT LED color. Apps may override it, and most do.

attempted to fix freezing clock yet again
fixed wifi icon being cut off (This was still broken for me so I fixed it - jermaine)
fixed color multipliers being doubled

new gamma ranges from -100 to 100 defaulting to 0
your kernel (if it supports gamma tuning) might have a different default, so just keep that in mind (60 was the previous default)

fixed small icons when airplane mode & wifi are enabled
added shortcuts to toggle torch & toggle navbar

that means you can add these to nav bar as regular actions or long press actions, click "Custom app", scroll down to "System UI", toggle nav bar & torch should be there.
You can also add these shortcuts to your desktop. They do NOT work correctly from the lockscreen, yet.

Fixed decrease lights in custom backlight settings
Version 1.4.1 Changelog:
Resolved a notification area icon issue.
Version 1.4 Changelog:
Updated to AOKP build 34
fixed mobile data toggle not updating for serious
fix navigation buttons for tablets
long press home options added to General Interface for phones that have hardware buttons
fix icon transparency being applied to right-side buttons (BT, etc)
updated NovaLauncher to 1.1.1
Add BT MAP Profile
fix font sizing in statusbar
fixed volume sliders not updating when volumes are linked
many fixes for ColorPicker in ROM Control

gradient showing properly
color picker should fit in all screens now
show color preview before opening dialog (in-line)

fixed sound playing when volume zoom is enabled in camera
last.fm AVRCP crash fixed
contact pictures now displaying properly in notifications when receiving new sms
many other things! check out all the commits at http://gerrit.sudose...atus:merged,n,z
Version 1.3 Changelog:
Added dock battery to notification area (Thanks CyanogenMod Team!) WIP. It may be slow to detect docked/undocked states.
Reverted TeamKang's navigation bar changes to resolve SystemUI FC (You can't add apps to the navigation bar)
Fixed the navigation button glow overlays to be the right size until fixed upstream.
Using stock Asus .21 kernel (Default 1.5GHz see OC steps here.)
Changed device model to "Transformer Prime TF201" by popular demand.
Enabled Settings-->Dock Settings
Updated to AOKP build 33. Upstream changelog:

bug fixes
- Bluetooth: Fixed memory leak and file handles leak
- Nav bar & tablet status bar FCs fixed (This is not fixed and that's why I reverted it)
- Fixed some init.d scripts not running due to lack of bash
- Changing brightness by sliding on the top of the statusbar (if enabled) shouldn't FC anymore
- Fixed Data toggle not updating properly
- Torch should be acting normally again
- ROM Control: Fixed scrolling cache not setting properly
- Weather will refresh whenever SystemUI starts instead of when the phone boots (so if it gets restarted, it should fetch weather again, it didn't before)
- Lockscrens: Added lockscreen wallpapers to pin & pattern unlock screens
- Settings: fixed link mute states always being checked

supersonic: Updated files (thanks to evervolv), should boot! I've also included a "camera hack" so it should work, Video camera will FC, so will panorama mode. It is what it is



new features
- Added another ROM Control shortcut that opens ROM Control
- Added ability to translate weather conditions (only German is translated for now I think)
- Mms: added ability to strip unicode (CM)
- Mms: added emoji icons (CM)
- Mms: added quick emoji button to left of input (option you must enable)
- Added warnings to fast charge (will notify you if it's enabled on boot)
- Hide navbar feature for tablets
- More music players supported for AVRCP 1.3
Version 1.2 Changelog:
Updated to AOKP build 32

Fixes:
- Fix NavBar showing up in landscape lockscreen
- Fix long-press resetting custom NavBar icons
- Fix incorrect bluetooth address on some devices
- Fix lockscreen events showing up 1 day before
- Fix quickunlock not allowing passwords longer than 8 chars
- Fix centered clock not showing the correct time
- Other small fixes

New Features:
- Camera: Pinch and Volume Zoom (CyanogenMod, Whitehawkx)
- General UI: Customizable rotation delay is back! (roman)
- Bluetooth: AVRCP 1.3+ support (CyanogenMod, MarcLandis)
- Lockscreen/NavBar: Allow shortcuts to specify their own icons
- NavBar: Allow tablets to use "hide NavBar" feature (Zaphod-Beeble)
- NavBar: Custom NavBar is now available for tablets as well! (Zaphod-Beeble)
- NavBar: Customizable glow color (roman)
- Quiet Hours: Configure the hours your device should be quiet and/or still (sethyx and thanks to CyanogenMod)
- Statusbar: Added ability to WeatherPanel to start a custom app (MarcLandis)
- Statusbar: Added ability to hide signal bars (hillbillyhacker)
- Statusbar: Customizable font size (Zaphod-Beeble)
- Statusbar: Customizable icon transparency (sethyx)

aries (this is all Galaxy S devices): added fast charge toggle
p1c: WiFi should work properly

Wipe strongly recommended

Back to the Asus stock .21 kernel by default
Fixed UK keyboard layout
Version 1.12 Changelog:
Fixed graphical glitches caused by framework changes
Version 1.11 Changelog:
Fixed Titanium Backup crash
Version 1.1 Changelog:
Sync'd to AOKP build 31
SD, microSD, USB, NTFS. exFAT automounts and should work with Motley v2.4 as well
OI file manager baked in
Version 1.0 Changelog:
Android 4.0.4 (First for the Prime!)
Face Unlock
Based on AOKP build 29
Wifi
BT (Completely)
Keyboard Dock Soft keys
Lid Close = Sleep
Lid Open = Wake
microSD
Full sized SD
USB storage and devices
YouTube is baked in
Storage changed from being in /mnt folder to /Removable folder
Motley's 1.8GHz kernel (1.6GHz or mode 3 by default, change mode in /etc/init.d/cpu_overclock for faster: 4 = 1.7, 5 = 1.8)
NTFS (See NTFS mounting instructions below)
Logitech Gamepad support
I really don't care about GPS since Asus doesn't

More I probably forgot....
RC2 Changelog:
Updated the proprietary files to 9.4.2.21
Updated the kernel to the 9.4.2.21 stock kernel (Overclock script from mods is still needed for 1.6GHz)
[/hide]
AOKP Source Code

We spend countless of hours doing this for next to nothing. Posts, views, and donations encourage me, and everyone else who helps out.
Team Kang (Original Rom Creators)
Donate to Roman
Donate to Whitehawkx
Donate to Jonathan Grigg
Donate to Zaphod-Beeble
Donate to ProTekk
Jermaine151 (Rom porter for the Transformer Prime)
Donate to Jermaine151
Every donation is cherished and loved.
Milestone 6.1 install video by wwjoshdew: