General Overview
EE4 based cleaned up touchwiz experience with a few modded goodies.
Features/Changelog:
v1.3.1
Full TW4 UI
Replaced launcher2 with my modified tw3 gb launcher (from GTGs source)
Comes with working sgs2 widgets (Digital clock-sbrissen, accuweather, modded daily briefing)
Fixed black on black issues with wireless settings
Puzzle and glass lockscreen are back.
Cleaned up some unneeded files for apps that are no longer installed
Updated market and google maps to newest versions
Added SGS2 Wallpapers and ringtones
SGS bootanimation
Coming Soon in 1.3.2!
AOSP lockscreen available via flashing a separate zip.
VVM users will now have the option to flash the VVM dialer with VVM services *Added 7/29 to misc download section
The red/black theme (anyone care to name it?)will come soon as a theme as well as the red launcher2
Honeycomb style theme (launcher2, and TW)
TW4 themed Launcher2
v1.2
Bluetooth now works!
Fixed some issues with losing data connectivity
Added in some gingerbread binaries
Changed the notifications font to all white/red
Removed all market apps (twitter, facebook, voltage control, voodoo control)
Removed old shutdown animation and replaced with CRT shutdown animation
Added in knyghtryda camera with power button as shutter
Removed carrier badge (Verizon Wireless) from AOSP lockscreen
Cleaned up the theme a little bit
v1.1
Updated android.policy.jar and framework.jar to resolve some force close issues (Thanks for the heads up kejar31!)
*Full rom, but can be flashed over v1.0.
v1.0
Cleaned up unnecessary applications, deodexed, zipaligned, blah blah blah
Added in syaoran12 reboot options
Accurate battery with 20 charging icons - 5 is just too choppy for me
No full battery notification
AOSP lockscreen (nitsuj17)
Added Spare parts into Settings
Modified Settings menu for Call answer lockscreen (AOSP or Puzzle)
Rotating Launcher2 from Fascinate ComRom
Rotating Dialer from Fascinate ComRom with Voicemail button mapped to Google Voice (adynalyne)
kejar31's SD fstab mounting fix
Black/Red UI Theme throughout the rom
Pulldown icons by Chopperthedog
Disabled Setup wizard from starting
Disabled Autorestore of apps completely when signing in to your account
AOSP Deskclock
AOSP Music Player
AppWidgetPicker by boombuler
Crutch, Google Docs, Voltage control and Voodoo Control apps included for convenience
Changed GPS config to US satellites instead of North America
Custom Host file to block Ads but modified to allow some games to work properly
Gingerbread keyboard from here:
http://forum.xda-developers.com/showthread.php?t=845162
DNS servers changed to Google (imnuts dns guide)
Wifi Scanning interval increased to two minutes
Misc prop edits
To change call answer lockscreen navigate to Settings-> Display -> Incoming Call Unlock
Downloads:
Highly recommended to wipe before installation!
Download Eclipse v1.3.1:
http://www.mediafire.com/?5qdil3pi4ne5gtb
Misc Downloads:
For those of you who have problems with the modded gps config
Download stock GPS config:
http://www.mediafire.com/?6ryx496xqim7nyi
Download Visual Voice mail w/Dialer:
http://www.mediafire.com/?aifow8ilargoq2h
Download AOSP Lockscreen:
http://www.mediafire.com/?396hbgn40st2dvb
Download Puzzle lockscreen:
http://www.mediafire.com/?l1znxsxtvuf6b7s
Download Voice Recorder Fix:
http://www.mediafire.com/?h61gb2wmjt17w63
Download Screen Capture Service:
http://www.mediafire.com/?wph2l8r31aa6jej
Notes:
Do not install any themes over Eclipse at this time due to some app incompatibilities.
Wipe Data before installing
No kernel is included. I recommend using imnuts' OTB kernel found here:
http://forum.xda-developers.com/showthread.php?t=1126136
ScreenShots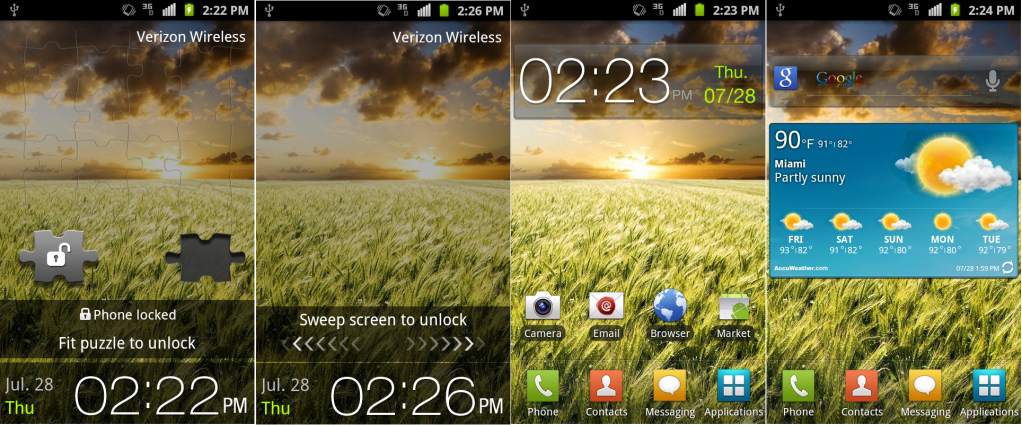 Old Downloads:
Download Eclipse v1.0:
http://www.mediafire.com/?tq1p6s9v83io23v
Download Eclipse v1.1:
http://www.mediafire.com/?rivt2s1b61mbts9
Download Eclipse v1.2:
http://www.mediafire.com/?92rnnkduvota2ua