Mod
Type:
: ROM
Difficulty:
: Very Easy
Mod
Base:
: Sense (HTC)
Mod
Status:
: Stable
Apply
In:
: CWM Recovery
Carrier:
: Verizon
Optional:
: Smali Edits
Requires
Root:
: Yes
Optional:
: In Rom Manager
Android
Version:
: 2.3.X (GB)
Source:
:
KillaSense 3.7.19 by orkillakilla​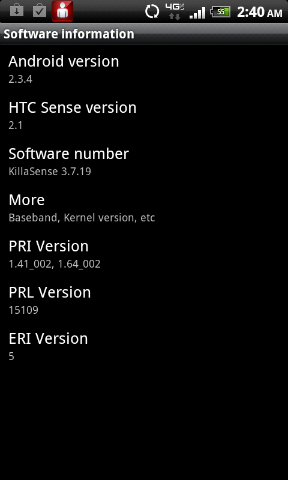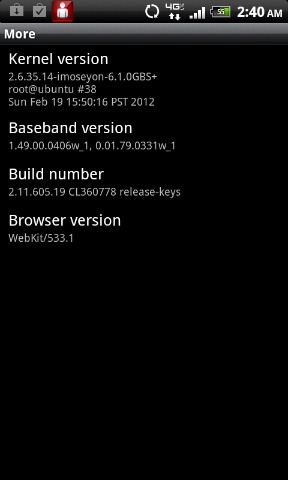 *Cleaned the OP up a bit*
*Disclaimer: Flash at your own risk. I am not responisble for any damages, bricks, cracked screens, exploding batteries, voided warranties, or anything else you can think of to sue me over
*
Features:
New 2.11.605.19 base
Stock Sense 2.1
Rooted, Deodex'd, Busybox, Bash
Imoyeson's leankernel
7n1 Power Menu and 4n1 Reboot Options (edits done by me)
build.prop tweaks for smoothness, speed, and battery life
sysrw/sysro scripts added (run in terminal emulator to mount system as read/write or read only)
A few customized ringtones and notifications tones (A few of my favorites)
Overscroll Glow
No GPS reticle in status bar (credit to Ryanmo5 and Adrynalyne)
Working Wifi Tether (open app, go to settings, set device profile to Thunderbolt, check Routing Fix)
Extra quicksettings
Sense 3.5 Camera App (thanks to BuffoGT)
HTC Keyboard without arrows
Changelog 4/23
Updated to latest base 2.11.605.19
Added working 7n1 Power Menu and 4n1 Reboot Menu for new base (edits done by me)
Fixed preinstalled terminal emulator FC problem
More build.prop tweaks
Edited default rosie homescreen layout (no more widgets other than clock and only a few apps on homescreens on first startup)
Removed CRT Animations due to differences in framework from the new base
Updated to Imoseyon's leankernel 6.1.0GB (5.2.0 won't work with new base)
Updated some apps
Added HTC Keyboard with no arrows
Changed bootanimation and downanimation
Changelog 2/14
Clock app back in drawer
Operator tab removed from drawer
Overscroll glow back
Quick Settings reorganized
SU app and binary updated
KillaSense logo on first boot
Maybe ohter stuff I can't remember lolz
Bugs:
Video camera force closes. Fix can be found below.
Download:
KillaSense 3.7.19
md5sum: 412430e6c56c9fab7829503bcdcbedcb
Fix For Camcorder Issue:
http://db.tt/Z55YLMlc
(thanks to Slim Shady, dumas777, DXJeep and others for their work on fixing this bug while I have been out of the scene for a while.)
I forgot to add the TaskManager.apk. If you want the memory quicksetting to work, flash this:
http://thisismyandro...TaskManager.zip
Check here for the latest version of Imoyeson's leankernel:
http://rootzwiki.com...-520-610-21912/
KillaSense is also on ROM Manager!
Special thanks to:
th33ch0 for hosting!
BuffoGT for the Sense 3.5 Camera app!
ihtfp69 and Thunderstick for all their help with the extra Quick Settings!
Ryanmo5 for all his help!
Grnlantern79 for advice
dmeadows013 for giving me apk editing advice
everyone who helped with Revolutionary
Jcase, Team AndIRC, and AndroidPolice for everything they do for the Android communty
Team BAMF for some mods
Kush for his awesome recovery
Imoseyon for his AWESOME kernel work
dsixda for the most useful tool I use: Android Kitchen
Brut.all for APKtool
BIG shout out to everyone at the UOT Kitchen. You guys did an AMAZING job at creating this tool.
Install Instructions:
Place ROM on root of your SDcard
Reboot into your custom recovery of choice
Wipe Data/Cache (I also recommend wiping dalvic cache, and going to mounts/storage and formatting /system)
Choose install from SDcard, locate the ROM, and flash away.
Reboot
Enjoy
If you have any problems or questions, feel free to shoot me a pm or hit me up on gtalk:
[email protected]