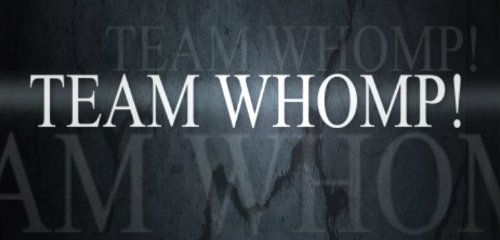 An ultra smooth, rock stable, and tweaked out stock rom! Offering great battery life, endless options, and putting the installation of the rom in the control of the user. Team Whomp is dedicated toward improving this rom and listening to the users to make it greater. and of course a little light hearted fun
​

EvolutionCSR: Developer
Cincyelite22: Developer


-1X/3G True Network Mod
-4in1 Reboot
-5x6 TouchWiz Launcher /W or Without Scrolling Wallpaper
-8 Color Options for Quick Toggles and Drop Down Bar
-23 Toggles Mod with Toggle Settings
-AC!D Audio Mod
-Ad Block
-Android 4.2 Launcher, GMail, Keyboard, Camera, & Desk Clock
-AOSP Lockscreen Option with toggle
-AOSP Messaging and Phone Shortcuts
-AOSP functional Weather and Clock Toggles
-AROMA Installer
-Battery Tweaks
-Build.prop Tweaks
-Busy Box Support
-Call Record Mod
-Camera in Call enabled
-Camera enabled with low battery
-Camera Shutter Sound Option
-Clock Mod 3.0 toggles and colors
-Contacts Tweaks
-CRT OFF Animation
-Custom Boot Animation
-Debloated!
-Disabled Full Charge Notification
-Disabled Ring Delay
-Disabled SMS Screen On
-Finger Ink Enabled
-Hotspot Mod
-Increased Call and Speaker Volume
-MultiWindow w/ All apps enabled and 50% opacity
-Multiple Kernel Selections
-Network Tweaks
-Notification LED Customization
-On Screen Navigation Buttons
-Percent Battery Mods
-Perseus Kernel
-Pie Control Quick Navigation
-Remove Select Input Method Notification Mod
-Removed Smart Stay/Rotation Eye from Status Bar
-Removed Sprint Connections Optimizer
-Removed Data Roaming Notification
-Retheme and Remod Option in AROMA
-Resizable Popup Browser
-Rotating TouchWiz Launchers
-Samsung Auto Correct Keyboard
-Sense 4 Recent Apps
-SMS Tweaks
-Stability
-Status Bar colors change on the fly
-Stock Look
-Stock Fonts
-SuperUser
-Transparent Pull Downs
-Transparent Status Bar on the fly
-Volume Buttons as Shutter
-Volume Skip Track enabled with toggle
-Wallpaper Scrolling
-Whompasaurus Built in Settings
-Whompasaurs Wallpapers
-Wifi Tether Mod​

Aroma Installer:
-Installation Options: Full Install, Mod and Theme Install
-Touchwiz Launchers: TW 4x4, TW5x6, Rotating TW4x4, Rotating TW 5x6 /w or without scrolling
-Optional Launchers: Nova, Apex, Android 4.2 Launcher
-Notification Pull Down Transparency: No Transparency, 25%, 50%, 75%, 100%
-Quick Toggle Colors: Stock, Baby Blue, Blue, Green, Magenta, Orange, Purple, Red, Yellow
-Drop Down Bar Colors: Stock, Baby Blue, Blue, Green, Magenta, Orange, Purple, Red, Yellow
-Battery Mods: Stock, Blue Circle, Circles, Digital Numbers, Green Circle, ICS Circle, Meter, Red, Stars, Stock W/ Percent
-Center Clock: Align Clock Center, Align Clock Right
-Optional Mods: Call Recording, Disable SMS Notification Screen On, Resizable Popup Browser, Ad Block, Remove Select Input Method Notification, Increased Volume Levels, Auto Correct for Samsung Keyboard, On Screen Navigation Keys
-Google: Play Store, Maps, Street, Google Now & Search, GMail, GTalk, Youtube, Play Music, Play Books, Play Magazines
-Samsung: All Share, Groupcast, Kies, Media Hub, Music Hub, Mobile Print, Samsung Apps, Pen Apps, S Suggest, S Voice, S Cloud
-Miscellaneous: Accuweather Apps, Adobe Flash, Dropbox, Polaris Office, Swype, VPN Client, Yahoo Apps, Flipboard, Live Wallpapers, Sprint Apps, Swype, Visual Voice Mail
-Jelly Bean Apps: Jelly Bean Keyboard, Jelly Bean Camera, Jelly Bean Desckclock
-Social Media: XDA, Twitter, Facebook, Google +
-File Managers: ES File Explorer, Stock Samsung File Explorer
-Kernels: Stock Kernel, Most Recent Perseus
-Boot Animation: Fossil Animation, Whomp on Fire Animation​


If anyone would like to use the work of Team WHOMP! all we ask is that you give us the credit due
​

1. Make a Nandroid Backup!

2. Download Rom

3. Place Rom on Internal SD card

4. Boot phone into CWM or TWRP (hold Vol up, Home, & Power Button)

5. Wipe Cache, Dalvik Cache, & Data(Factory reset in TWRP)!

6. Select 'Install ZIP from SD card'

7. Select 'Choose ZIP from SD card'

8.Select Whompasauraus Rom that you placed on Internal SD card

9.Reboot & Enjoy!!!
4/23/2013 Whompasaurus V4.0
-Added Left Clock
-Added Status Bar color changer to Settings>Display
-Added Clock color changer to Settings>Date and Time
-Added Aroma Option for Non Scrolling TouchWiz Launchers
-Enabled the PRL Write option in the ##DATA# menu
-Removed Connection Optimizer
-Removed Roaming Notification
-Removed Status Bar Transparency Options from Aroma
-Removed OTA Update Notification
-Fixed Google Now FC
-Fixed Notification Overlap in StatusBar
-More?
4/22/2013 Whompasaurus V3.9
-Test Version never officially released.
4/14/2013 Whompasaurus V3.4
-Added Hotspot Mod
-Fixed missing lib file for S Translator
-Updated Apps (Facebook, Flipboard, Gmail, Google +, Google Search,
GroupCast, Kies Air, Light Manager, SuperSU, Twitter)
-Fixed GameHub Install Bug
-Removed Smart Stay/Rotation Eye from Status Bar
4/10/2013 Whompasaurus V3.2
-Added clock options to date and time settings
-Volume Skip Track Toggle added to sound settings
-Ripple Effect automatically unchecks if AOSP Lockscreen chosen
-Fixed menu button unlock AOSP Lockscreen
-Added New 4.0.25 Play Store
-Added Accuweather Section to Aroma
-Added in S Translate to Samsung Section of Aroma
-Added in full transparency pull down
-Perseus Kernel V35 added
-Sense 4 Recent Apps mod removed
3/5/2013 Whompasaurus V2.9
-Added SMS and Phone Shortcuts to AOSP Lock Screen
-Clock and Weather Toggles Functional with AOSP Lock
-Enabled Ink Effect with Finger
-Added Sense 4 Recent Apps Mod
-Added SU app back in
-Visual Voice Mail added to Misc Apps in AROMA
-AROMA Rewording for clarity
2/26/2013 Whompasaurus V2.7.1
-Fixed Battery Mods
-Fixed Phone Mods
-Fixed AOSP Lockscreen and Shortcuts
2/24/2013 Whompasaurus V2.7
-Complete Rebase on MA7
-Updated Apps
2/14/13 Whompasaurus V2.6
-Fixed transparent status bar
-Added AC!D Audio to Replace Awesome Beats
-Home Button Fix
-Added Functional Flash Light Toggle with Screen Off
2/12/13 V2.5
-Transparent Status Bar and Pull Down options
-Added Pie Control to Whomp Settings
-Added Stock Fonts
-Added 1X/3G Mod
-Added On Screen Navigation Button Mod Option
-Added Samsung Auto Correct Keyboard Option
2/2/2013 V2.4
-Wifi Tether functional on boot
-Installer Progress added
-Chameleon Error Fix
-Boot Animation Option in Aroma
1/31/2013 V2.3
-Long Press Volume Skip Tracks enabled
-Perseus Kernel V32.1 Added
-Camera enabled with low battery
1/10/2013 V2.1.1
-System Volume Fix
1/9/2013 V2.1
-CRT OFF Animation Added
-Increase Volume Mod Put In Aroma instead of as set as Default
-Home Button Lag Time Fix!!!
-Aroma Reinstaller Option for Themes and Mods on the go!
-Touch Wiz Rotating Launchers Added
-New Perseus Kernel V30.1 Added
1/6/2013 V2.0
-Whomp Settings built into Settings Menu
-Whompasaurus Wallpapers Added
-Awesome Beats Added
-Volume Buttons As Shutter
-Quick Toggle Color Mods Added
-Drop Down Bar Color Mods Added
-Battery Mods Added
-Shutter Sound Option Added Back In
-AOSP LockScreen Added
-Jelly Bean Apps Section added to Aroma
-Stable Perseus Kernel Added
-Light Flow Notication App Added
12/24/2012 V1.7
-New Boot Animation!!!
-Whompasaurus Default Wallpaper
-Camera sound disabled
-WiFi Tether Fixed
-Busybox Fixed
-Call Volume and Speaker sound Increased
-Remove Select Input Method Notification Option
-More performance tweaks!
12/24/2012 V1.5
-AdBlock Added
-Transparent SystemUI Option Added(More work to be done on this for future version)
-Center Clock Option in Aroma works on both SystemUI's
-Status Bar set to black by default
-Resizeable PopUp browser fixed
-WiFi Tether Mod Added
-Updated Perseus kernel
-Added 4.2 Camera
-Live Wallpapers added to Aroma
-Sprint Apps added to Aroma
-Added AC!D Audio Mod!
-Merry Christmas!
12/11/2012 V1.3
-Stock TW Added
-23 Toggles Added
-Disable SMS screen on Added
-Center Clock Mod Added
-Debloat of unnecessary apps
-Updated Apps
-Reworded Aroma Debloat to be simpler
-Camera In Call Added
-Camera Shutter Sound Menu Added
-Build Prop Tweaks Added
-Contacts, SMS, and Camera Tweaks
-GPU Rendering
-Resizable Popup Added
12/10/2012 V0.7 BETA​
-Initial Beta Release!​
[/code]​

​
​
-Don't forget to grab your Signature to represent Team Whomp from post #4​

-Awesomeness​

-Nothing to see here​

-Move along

​

​
​

​
​
http://www.androidfilehost.com/?fid=22926241640219182

​

MD5:

[background=rgb(230, 230, 230)]87d188aabe7c3f0ee3edf4c1393c9c22[/background]

​

Data, Cache, and Dalvik Cache is RECOMMENDED.​

​
​
To remove "Swipe to free the WHOMP!" from the TW lock screen go to Settings>Lock screen>Lock screen options>un check "Help Text"​

-Team WHOMP! is not responsible for any damages that may be caused by flashing this rom. By flashing this rom you are assuming full responsibility for anything that may occur.​

T3Project

- For the deodexed base!

Wanam

-For Porting Toggles to the Note II.

Didact74

-Clock Mod 2.0

Loserskater

-Volume Skip/Clock Mod 3.0

Gyebro

-For his Resizable Popup Browser.

Andreilux

-For his Perseus Kernel.

Team AC!D

-For their sweet Audio mod.

BSDgeek_Jake

-For his Ad Block Hosts File.

TrevE

-For his Wifi Tether Mod.

Stericson & Kastro

-For their Metamorph!

Chainfire

-Helping to get root on the Note II.

Google

-For Android

Samsung

-For the Galaxy Note II.

Thisiskindacrap!

-For the touchwiz battery images

majdinj

-For the battery mods

Arsaw

-For the Samsung Auto Correct Keyboard.

DigiBlur

-Remove Smart Stay/Rotation Eye, Remove Connections Optimizer,

Remove Roaming Notification, Enable PRL Write enabler & ##DEBUG# prompt

crawrj

-Hotspot Mod

Donators

-You all make this happen!


If you like our work please donate


Anyone who donated please post a reply so we can add you to the donator list!


Code:
<br />
[*][b]TMPOOLE[/b]<br />
[*]chile62<br />
[*]wolfeyes30<br />
[*]jbbosu<br />
[*]kobuu<br />
[*]Stan<br />
[*]Max_Pain<br />
[*]MrTrackZed<br />
[*]booxsix<br />
[*]va_hero<br />
[*]resarfekim<br />
[*]SpikeOhio<br />
[*]evo_like<br />
[*]Nannuq<br />
[*]Mohammad<br />
[*]duongdn<br />
Represent the Whompasaurus inside you with this signature banner