DISCLAIMER: This is a CUSTOM' ROM! Use at YOUR OWN RISK!!! By using this ROM, you understand that that I am not liable for any or all consequences of using this ROM. If you don't know what you're doing, DON'T TRY IT. Use at your own risk!
Here ya go folks, CyanogenMod 11 for the Galaxy Nexus (maguro)!!! Well, let's be honest, unless you're living under a rock, you probably know what Android 4.4 (kitkat) is. Furthermore, you should know what the CyanogenMod project is. However, if a rock is really your home and you'd like to learn more, please visit their site:
CyanogenMod | Android Community Rom based on KitKat
.
Version
: 20131126
Developer
: PlayfulGod
Description
: CyanogenMod 11 for Samsung Galaxy Nexus
Source
: Uses all CM repos now.
Status
: Beta
CyanogenMod 11
What is this?
This is a build of the popular CyanogenMod 11 for the Samsung Galaxy Nexus (maguro). This is built from source.
People to Thank
CyanogenMod - Do I need to state why we owe thanks to these guys?
koush - for his wonderful recovery.
SlimRom - for their tuna device and vendor repos.
Guys on freenode #cyanogenmod-dev, #koush, & #oudhitsquad for their assistance and advice.
Whats Working??
Whats Not Working??
graphic glitches (screenshot animation)
Changelog
11.13.2013
Initial Build
11.15.2013
resynced with cm repos
added torch back
merged SlimRoms device tuna with CM's
11.26.2013
Synced with CM Repos
Screenshots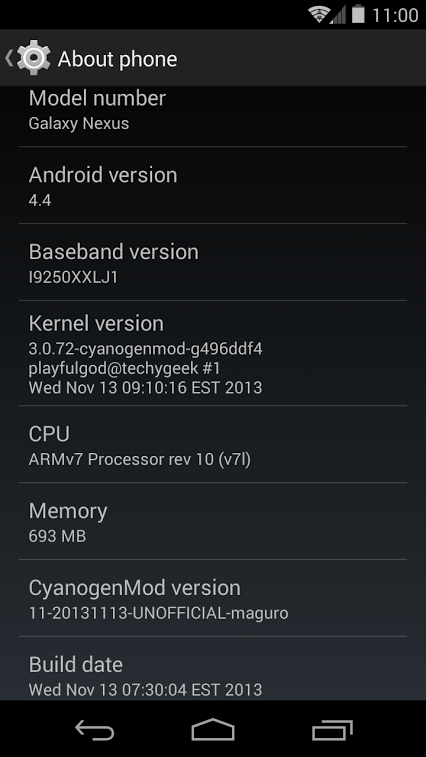 How do I install this?
Download the .zip & copy to phone (make sure wifi is enabled if dl'd from phone).
Zip can be installed from either sdcard or with sideload (No need to copy zip to phone if using sideload, see instructions for sideload below).
MAKE A BACKUP!!!
DO A FACTORY RESET!!! - this will wipe data & cache!
Go to install zip from sdcard
Choose zip from sdcard
Select cm-11-xxxxxxxxxx-UNOFFICIAL-maguro.zip
Confirm
Repeat Steps 5 -8 for gapps
Reboot
If using sideload:
Download zip on PC
Connect to PC via USB (make sure to have USB drivers if using Windows)
Open a terminal or cmd window and type:

adb sideload cm-11-xxxxxxxx-UNOFFICIAL-maguro.zip

Repeat for Gapps.
Reboot
Downloads
Gapps