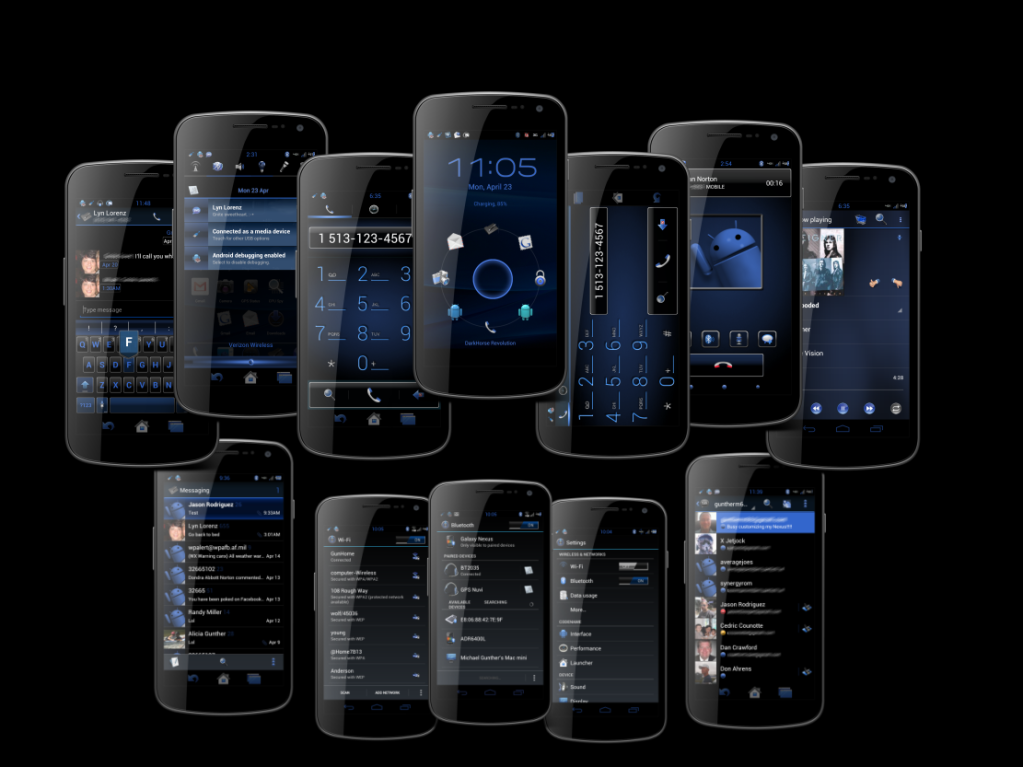 Introducing DarkHorse Revolution.........
This is a labor of love. DarkHorse theme has seen itself on manyphones, and many variations. From Incredable, Thunderbolt.. Sense 2.0 through Sense 3.5. Evolution, Eternity and now Revolution.. Jonathanphx1 has always done amazing work.. He can't be thanked enough for allowing me to continue to bring it to you on the NeXus.. This version is almost a complete re-write of what I release for the Thunderbolt on Enterity ROM... So much has changed.
What will you find? A theme that doesn't like ICS Blue. Is it 100% gone? nope, but will be harder to find it. This is a theme that I like ot go into all theme parts and find every image i can find that you could have show up and replace it, theme, change it. whatever was needed. If you love the stock ICS experience, you might not like this, but try it anyways... Is it 100% complete? Nope not at all. as many have called me OCD(and a few other names).. But had to release something.
1. What's Themed:
Framework
SystemUI
Phone *** Special Redesign by myself!!!!!!
Contacts (special thanx to gsxrDon, for compiling)
MMS (inverted)
Talk (inverted)
Mail (inverted)
Gmail (inverted)
***QuickSearch(Google Now - Inverted!!!)
GoogleFramework
Browser
Settings
DownloadProvider
Market 3.8.17 (Inverted and Themed)
Launcher
LatienIME (KeyBoard)
Calendar
** All inverted app's redone with twists for DarkHorse themeing, but some built upon others hard work and thank for it... great community to share!
2. Upcoming
a.
Camera app
b.
Add more to Google Now
c. Launcher - Done (08-17-12)
d. Nova Launcher
e. Theme Chooser Theme
f. Framework root out more ICS Blue - Updated (08-17-12)
3. Special Stuff
A. Notification Animations (thanx to gsxgrdon for idea)
Missed call, Voicemail, Talk, SMS, MMS, Email, Gmail, More Notification, Wi-fi Nearby, Blue Tooth/Wifi/PC Tethering (in status bar),
** the Notification animate, but in a non-invasive way. and utilizing DarkHorse Blue images...
B. Keyboard pop up redesigned by me, also added an enter key into popup, and dash which were missing IMO.
C. Changed over 2000+ images, 100+ xml edits just to name a few
D. Status Bar image's 100% visable, LockScreen Apps Themed, Custom Wifi - 3G/4G - Battery
*** Special Thanx to these people:
gsxrdron (for the countless hours answering questions, testing his ROM, and compiling my Inverted Contacts)
ocbooger (for the countless hours of beta testing, flashing, nandroiding, reflashing ROM to test features thanx man!)
And lets not forget...
Jonathanphx1... the orginal Dev of DarkHorse.... you rock man!!!
Changelog:
http://rootzwiki.com...12/#entry682578
4. Steps to Install
a. NANDROID!!!!! Can't say this enough. I support my theme but if you have an issue and you didn't NANDROID.. Shame on you!
b. Flash main theme in CWM..
c. Reboot and enjoy all the glory of this Theme.
d. Uninstall Market update
e. Uninstall anyupdates to Mail, Gmail, Talk
e. Flash Market seperately..
f. Reboot
5. Downloads
a.

DarkHorse Revolution 2.1

(Evolution 2.1.1 Only!!!!!)
** Too Use DarkHorse Style battery.. Select main battery Icon
** Main DarkHorseColor Code #ff3366cc
** When flashing it will chang your MMS coloring settings to match DarkHorseStyle..
b.

DarkHorse Apps 2.1

(Evolution 2.0/2.1.1) *** Updated 10/02/2012
Gmail, Mail, Market, Talk, Keyboard, Calendar
c.

DarkHorse Update Apps

(Evolution 2.1/2.1.1 Only!!) ** New Update 10/16/2012 ***
Updates to Calendar, Contacts, Google Play (Must Uninstall Google Play Updates First!!!)
Looking for Gmail 4.2.. go to post number two
d.

Revert System Files (Framework, SystemUI, Settings, Googleframework) instead of flashing the ROM to go back.

Evolution 2.1
Older ROM:
a.

DarkHorse Revolution 1.0 Full Theme

(EVOLUTION 1.2 Only Toro!!)
** Too Use DarkHorse Style battery.. Select main battery Icon
** To See DarkHorse Navi Buttons.. Settings->System->Navigation-NavBar Color
#00000000
b.
DarkHorse Revolution 2.0
(Evolution 2.0 Only!!!!! Toro!)
c.

DarkHorse Revolution 1.1 Update!!!! (Evolution 1.2 Only)

See changelog!! Nandroid First!
d.

Revert System Files (Framework, SystemUI, Settings, Googleframework) instead of flashing the ROM to go back.

Revolution 2.0
e.

Revert Inverted Apps (Will restore GsxrDon invert apps) Gmail, Email, MMS, Phone, Contacts