BE SURE TO DOWNLOAD THE APPROPRIATE FILE FOR YOUR ROM!!!
Ok I have put alot of work into this so far and there is still alot more to do. This is a theme I have put together for myself and thought maybe others would like it too. So here it is.
I did alot of it myself from scratch, such as battery and signal icons along with alot of other icons that I have pulled from other places and modified. Pretty much everything I pulled has had to be changed in one way or another. So I hope I can give all the correct credits for where the credits are due. I have not learned too much about .xml editing yet so some of the fonts may be hard to see on some of the backgrounds and such. This is still in it's very early stages and hopefully it will get much better as I learn more.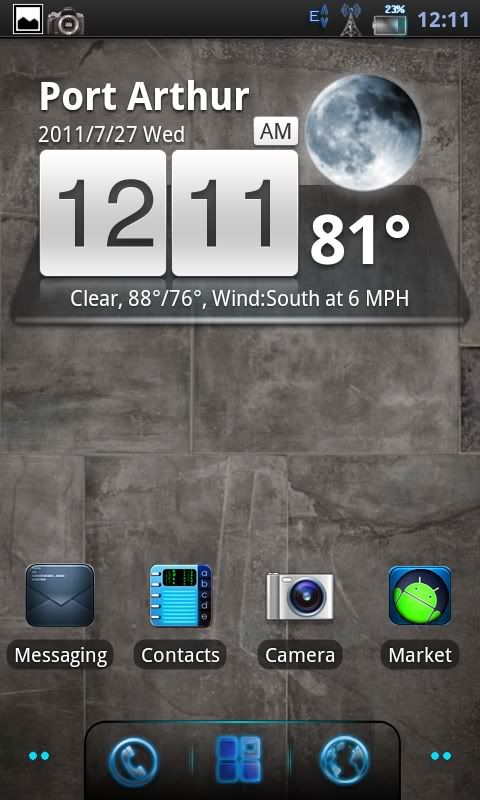 I am sure there is more, but I have been so busy I may have overlooked somethings. I am sorry if I did just let me know and I will be more then happy to add it.
Everything that has been ported I plan on changing and re-doing.
Flash at your own risk. I am not resposible if you destroy your device.
Instructions:
1. Download the appropriate Precision Version for your ROM
2. Reboot into recovery
3. Flash zip from sd carc
4. Reboot
5. If it happens to stick on the boot animation, simply hold power to reboot again.
6. Enjoy
PROJECT-V
Changelog:
v2
Fixed hard to read pull down text
fixed hard to read mms app text
Added Precision Boot animation
v1.3.2 7/29/2011
Added themed power control widget
Redid some frameworks
Redid mms and other apps
Added themed launcher2
v1.3.1 7/25/2011
Redid network icons to make them cleaner and more readable
Few other framework tweaks
New Cleaner Dialer
more themeing to browser
Redid some themeing in contacts
Added Project-V bootanimation by Annex
Touchups to default wallpaper
Download v2:
DOWNLOAD PRECISION V2 FOR PROJECT-V
Boot animation Alpha version: This only works on non Gingerbread ROMs!!!!!
DOWNLOAD PRECISION BOOTANIMATION
The bootanimation IS NOT FLASHABLE you have to move it to system/media with root explorer or something similar.
Due to I'm not running Project-V at this moment I have not gotten to test the new version with updated apps, so please let me know if there is any problems.
-------------------------------------------------------------
MALICEv4.1 JVQ
v1.0 (I have heard works on Asgard as well but test at your own risk)
Initial Release
Themed frameworkres, twframework, systemui
mms
launcher2
dialer
phone
settings
contacts
and much more
Download Precision v1.0 for Malice v4.1
DOWNLOAD PRECISION V1.0 FOR MALICE
The touchwiz4 included with malice version is still being worked on and will not allow you to add widgets yet. I am working on fixing it.
------------------------------------------------------------------------------------
REVOLUTION ROM FINAL JVQ
DOWNLOAD PRECISION FOR REVOLUTION ROM FINAL JVQ
------------------------------------------------------------------------------------
Precision for Ginger-ZenRC2 JVR
DOWNLOAD PRECISION FOR GINGERZEN RC2 JVR
This is a Edify Version that is compatible with Darkys ROM and pretty much any JVQ, JVP, and JVR ROM including the i9000 versions
This is still in a testing phase for complete compatibility so please leave feedback if you have issues.
http://www.mediafire.com/?c5qav229k4f5cx1
________________________________________________________
Asgard 3.2
DOWNLOAD PRECISION FOR ASGARD
This is only frameworkres, systemui, and twframe for now.
I will also post more screenshots. As they are needed.
If anyone wants this ported to other roms let me know.
Also feel free to use any of my work just leave a linkback to here and give credit where its due. I might try to make morphs of my battery and signal icons.
Im not sure what all roms this works with I have only tested it on project-v and the ones listed. Test around at your own risk.
Precision Wallpaper
DOWNLOAD HERE