Alright, I think an initial release of this is ready. I still have alot of work on this to go. The initial release only contains Frameworkres, Systemui, Slightly themed mms, and themed launcher2. I will be adding more apps, and fixing whatever things I may have overlooked in the frame and system.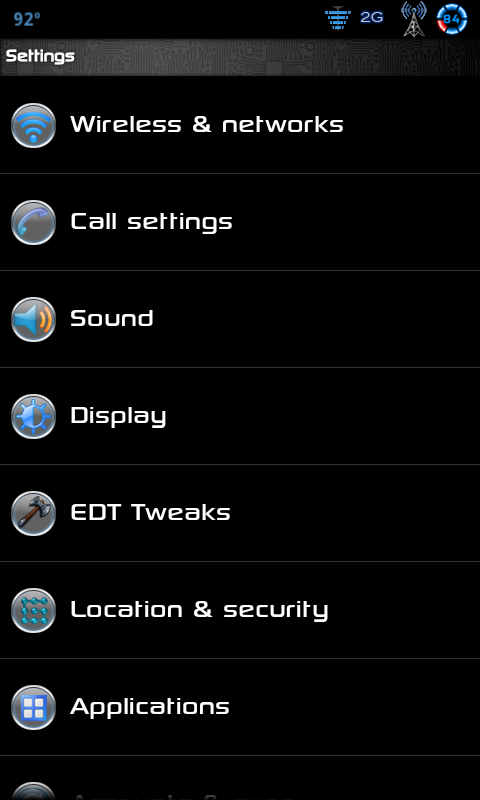 If you find any issues please let me know. This is CWM flashable.
INSTALLATION
1. Download the latest version of Precision
2. Reboot into Recovery
3. Wipe Cache and dalvik cache
4. Flash the Precision version you download
5. Reboot
6. Enjoy your new Precision Weapon!
I want to thank:
whitehawkx, Annex, roman and all of EDT.
KinGDaViD63
Callip
Tiger13
rascarlo for allowing me to modify his bootanimation
Everyone who has ever posted a guide or helped me in anyway.
All the Vibrant users who used my themes and kept me going at this.
And everyone who supports my work or has clicked my thanks button!
If I forgot anyone please let me know I would be more then happy to add you.
Changelog:
10/8/2011 version 1.20
Added a little themeing to google music 4.0 including glass widget
cleaned up some icons and other parts
10/7/2011
Updated to weapon 2.7
Fixed the wifi icon on the power control
added Google Music 4.0 for ICS
Added various other fixes and updates
For those using 2.6 or 2.5 who want the fixed power control widget download 2.7. Take the settings.apk out of the zip and push it to your system/app folder and reboot.
9/15/2011
Added Settings
Fixed some system ui and framework parts
Fixed the progress bars
Added my 4g and 2g icons
Started to work on phone
Ok Here it is Precision v1.1 for Weapon 2.7 with fixed power widget and all the new goodies. Enjoy.
DOWNLOAD PRECISION 1.2 FOR WEAPON 2.7
Precision Modified Stock boot animation by rascarlo modded by me to match the theme
CAN BE FOUND HERE
The boot animation is not flashable
. Push it with a root explorer type app to system/media and reboot.
Latest Version for 2.6:
DOWNLOAD PRECISION v0.2 WEAPON G2x
______________________________________________________________________________________________
Outdated Versions:
PRECISON 1.1 for weapon 2.7
DOWNLOAD PRECISION 1.1 FOR WEAPON 2.7 HERE
Download Precision v0.1 for WeaponG2x 2.5
DOWNLOAD HERE