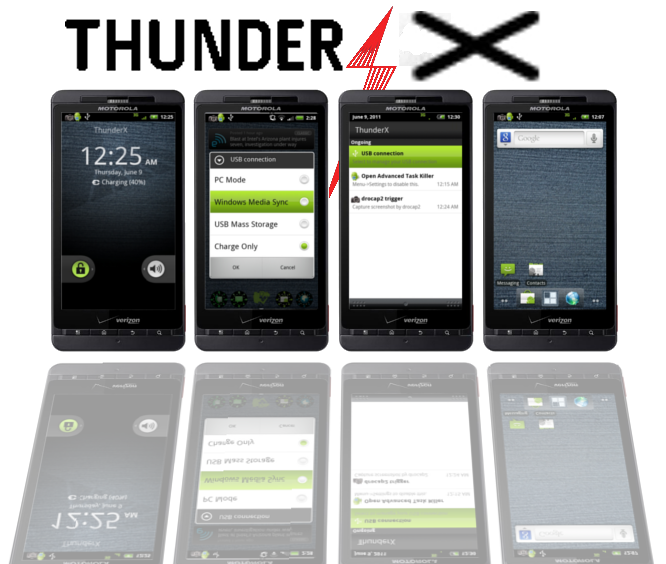 This Theme is in alpha and currently works on Liberty GB for DX 0.7 and Apex 2.0 RC1
This theme uses as many Thunderbolt stock icons as possible. Still a WIP continued theming apps will continue.
I do not take responsibility for your phone. You already "Voided the Warranty when rooting". more be careful with ur own phone stuff....
ThunderX alpha for DX Liberty GB 0.7 and ApeX 2.0 RC1 only at this time.
Flash it in ClockworkMod recovery like usual, might take a few minutes longer to load. It is a large file because ive included the browser,etc which makes it a larger file.
For DX Liberty GB v0.7
ThunderX for DX Liberty 0.7 GB
For DX Apex v2.0 RC1
ThunderX for ApeX 2.0
______________________________________________________
Thunderbolt Bootanimation.
Place
this zip
at the root of your sdcard (on sdcard not in a folder)
It goes black at the end because it's too short, so dont worry about 20-30seconds
I didn't make this boot animation or format it, its directly from Thunderbolt
For those that have Liberty Toolbox
navigate to Toolbox
>Liberty Tweaks
>>Manage Boot Animation
>>>install bootanimation.zip on SD
>>>>Reboot to enjoy
For those that want the BootAni NOT on Liberty
Download and place on the root of the sdcard (sdcard but not in any folder)(
also make sure you delete anything named "bootanimation.zip" in the folder /system/media before using terminal emulator.
)
>Open Terminal emulator on your phone (make sure its installed lol)
>>if you havent given it superuser permission yet type
"su" and hit enter and give it permission if you havent already​
>>>type the following after giving it superuser permissions
"cp /sdcard/bootanimation.zip /data/local" and hit enter​
"reboot" then hit enter​
when it boots up you should see it splash ur normal splash screen, then an HTC splash screen, The Thunderbolt animation, a static thunderbolt picture, and possible about 20-30 seconds of black depending on boot time.