Touchpad Tool-kit - Android automated installer.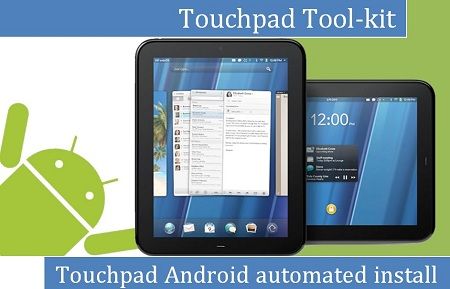 This is a complete tool-kit to get android on the HP Touchpad.
The pack is designed for easy installation of Cyanogenmod 9 (ICS 4.0.4) or Cyanogenmod 10 (JB 4.1.2).
What does the pack do?
Step by step guided installation wizard, fully configures the users PC.
Installs Novacom (32bit or 64bit)
Copies the following files to the "Palm, Inc" folder, ACMEInstaller3, ACMEUninstaller, uImage.ClockworkMod
Runs the ACMEInstaller3 install command to install android
Works with CM9 or CM10 (most likely CM7 too, although this is untested)
Runs on Windows XP, Vista, Windows 7 & Windows 8
Advanced section for experienced users to only access what they need
Runs the ACMEUninstaller to remove android (advanced section)
Does NOT require java to be installed on your PC
Download:
http://d-h.st/bNH
How do I use it? (Full guide to follow shortly)
Download and extract the "touchpad-xcd.zip" zip file, using the password "xcdtouch" (without quotes).
Connect your touchpad to your PC the same as normal to transfer files.
Copy the included cminstall folder to the main directory of your touchpad.
Decide if you want CM9 or 10, get one or the other NOT both.
If you want CM9 then download the newest files from the following links
If you want CM10 then download the newest files from the following links
Copy the android and google apps you just downloaded into the cminstall folder on the touchpad
Rename the two files so the file names start with "update-" (no quotes), so your cminstall folder looks similar to the following screenshot.

Run the "run-me.bat" file (Windows Vista, 7 & 8, right click and run as Admin)
Select standard user and follow the step by step guide in the batch file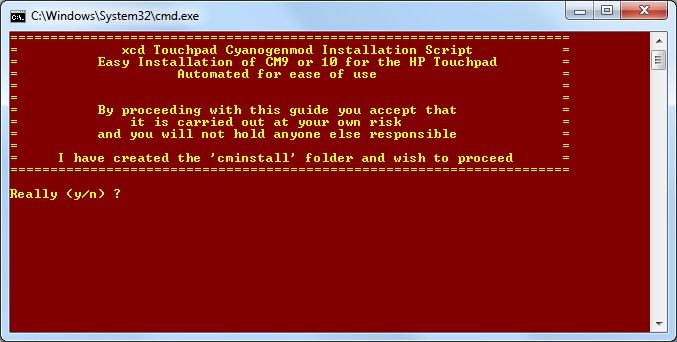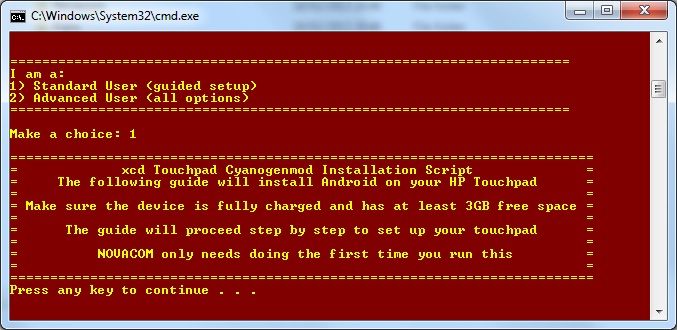 Notes
*IMPORTANT* If you run CM10 then as soon as possible go into settings > Storage > three dots in top right > USB Computer connection, and tick "Media Device (MTP)"
Will not work if run from a directory containing spaces in the name, Windows 7 "C:\Users\[username]\Downloads\" will work, Windows XP "C:\Documents and Settings\[username]\My Documents\" will fail. Windows XP users I advice you extract the "touchpad-xcd.zip" folder to your C:\ drive and not my documents.
Files will fail to copy if not run as administrator on Windows Vista/7/8
Tested extensively on Windows XP & 7 by users of various abilities with 100% success.
Changelog
Version 1 - 22/12/2012 - Initial pack released for limited testing
Version 2 - 20/2/2013 - Updated pack, moboot 037 replaced by 038, batch file tweaked based on user suggestions, rolled out to wider audience.
Version 3.1 - 21/02/2013 - Batch file updated to improve use and readability, password removed. 'uImage.ClockworkMod' is now only copied when doing an advanced memboot install, and not by default.