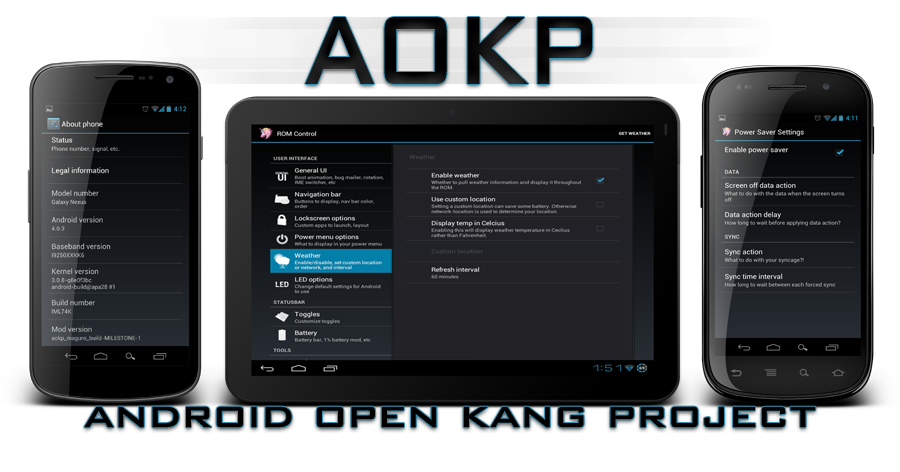 What is AOKP?!
Features:
Android 4.0.3 -- ITL41F
Support for many devices (e.g Galaxy Nexus (maguro/toro), Galaxy S (GT-I9000), HP Touchpad (tenderloin, etc)
Unsecure boot.img (stock AOSP kernel)
Superuser & Busybox preinstalled
Deodexed
180 Degree rotation
Built in performance/init.d configuration (Thanks Kejar & company)
Custom Power Menu
Brightness slider in navigation bar.
Custom color for anything in RC
Custom Clock Color/Location: Right, Center, Disable
Battery Icon/ Color Picker: CircleMod, Bar, Text Only, Icon Only, Icon+Text or None
Battery Bar in Status Bar or Nav Bar, Bar Thickness, Charging animation
Nav Bar Transparency
Nav Bar Button Reorder: Back-Home-Search-Menu
Nav Bar Color Picker
Nav Bar Button Glow Duration: Off, Fast, Slow
Nav Bar: Long press to Search button
Nav Bar Hide on Lockscreen
Toggles in Pull Down Menu: Auto rotate, Bluetooth, GPS, Wi-Fi, Aiplane mode, Vibrate, Silent, Sync, Data, 4G, Tethering, Torch, Brightness
'Traditional' toggle layout (where the toggle are on the very top) -- find in RC > Statusbar General > Layout
LCD Density (Careful with this)
Menu Button location: Right, Left, both, Remove
Menu Button Visability: Always show, Always show Invisible Icons
Lockscreen Style: Stock, Quad, Octo, ol' gingerbread
Lockscreen Wallpaper
Lockscreen color changer
Lockscreen calendar
Lockscreen SMS customizable shortcut (with icons)
Lockscreen Horizontal Option
Performance Menu: (Use With Caution) Max/ Min CPU, Scaling Governor
Unlock Sceen with Legacy Menu Icon
Volume Key to Wake Screen
Volume Key to Skip Tracks
Long-press back button to kill process
Disable CRT off animation
LED pulse settings (time on/off)
ICS ringtones/notification sounds
Customize carrier text to whatever.
Power Menu options: Boot to recovery/ Boot loader, Reboot, Screenshot
Facebook contact sync integration (must wipe to get this)
Disable Boot animation
Keyboard: Volume keys act as a cursor while typing -- disable in keyboard options
Long press home for recent apps (thanks brucekey)
Quick torch (enable in ROMControl, long press power when phone turned off. See the magic.)
Fast charge toggle for maguro/toro for kernels that support it
Weatherpanel in notification drawer
Weather on lockscreen
​
Want to help and improve AOKP? Check out our source on GitHub: click me! Open Source, in the spirit of community kangage.
​
Information:

​
(really) Big thanks to:​
romann (for ROM)
Whitehawkx
ProTekk
Zaphod-Beeble
Sethyx
CyanogenMod
Ex-Anonymous aka Kwes1020 for awesome images
Brainfire (for FAQ and first feature list)
All contributors and other developers
The community behind AOKP
Our IRC: #teamkang @ freenode.net​